They trust us to sell their unsold goods and customer returns directly.
Stocklear, the B2B marketplace dedicated to overstocks.

Excess inventory, bulk lot, job lot : that what drives us at Stocklear everyday. Our mission at Stocklear : to give the unsold good a second life.
Thanks to our marketplace and to the liquidation auction sale, we digitize the transactions linked to excess inventory.
Usually, the sale of unsold goods is linked to wholesale clearance ; we put this market on the 21st century.
+ 12 500
qualified professional buyers

+ 12 000
pallets of overstock sold

+ 2 700 000
products have been given a second life
New on Stocklear?
The B2B marketplace of Stocklear allows retailers and brands to digitalize the sale of their excess inventory.
It allows buyer to purchase joblots.
Make the most of customer returns and overstocks
Business for all
Here you will find all the useful information on overstocks, unsold goods, pallets and the overstock supply chain.
Sellers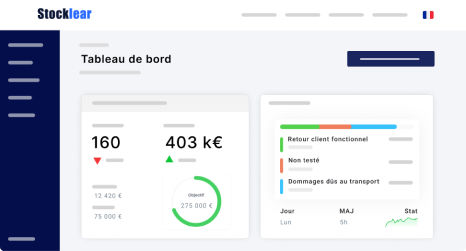 Our marketplace allows majors retailers (brands & distributors) to optimize their overstock distribution in a controlled way.
Control the distribution of your overstocks. Get the best price through auctions.
Retailers
Marketplaces
Major brands
Ecommerce
Create a seller account
Buyers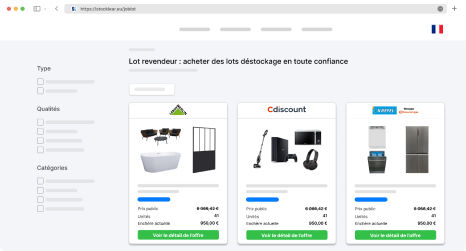 Access stock from Top A Brands & Major Retailers. Smartly.
Major european brands and retailers use our marketplace to distribute their overstocks.
Buy either with a minimum order or through auctions.
Discount stores
Clearance stores
Cecond-hand stores
Wholesalers
Explore the marketplace
Our latest sellers
B2B Marketplace
We list quality products that are easy to resell from trusted sellers near you.
The clearance pallet as a unit of measurement
Each stocklot is offered in the form of a overstock pallet (or sale pallet) in order to adapt to the logistical constraints of distribution.
Sellers offer their unsold goods in the form of lots: this is a wholesale clearance sale.
Buyers then have access to the lots, can consult them, analyse them and finally bid on them.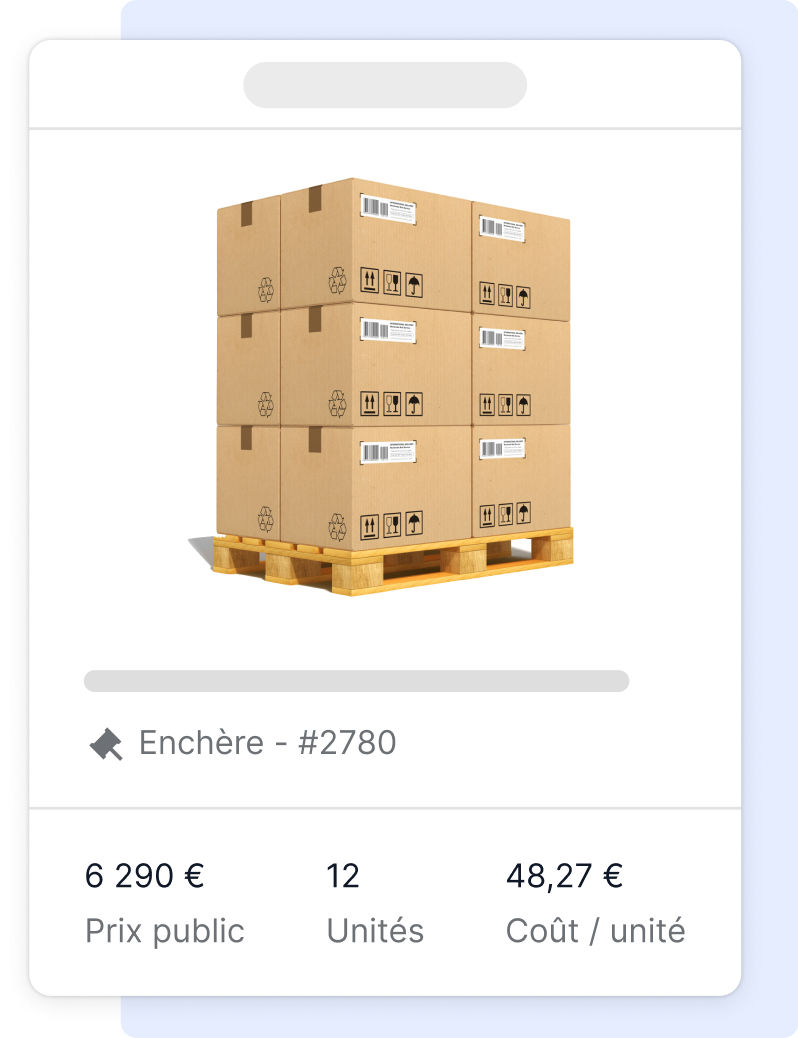 Our latest advice
Advice for buyers and sellers
Here you will find all the useful information on clearance, unsold goods, pallets and the overstock supply chain.
Buyer advice

12 January 2023
"Stocklear, have well understood the challenges associated with online de-stocking, and allow sellers to optimise their unsold stock in a very efficient way."

In Roubaix, RetailTech gives hope for a new economic boom

Stocklear, a newcomer on the market of ovestocks on the internet

Stocklear in the top 100 of the startups where to invest in 2020

Roubaix is counting on the forces of tech to finally be reborn

Stocklear joins forces with Match supermarkets